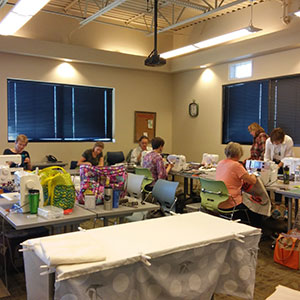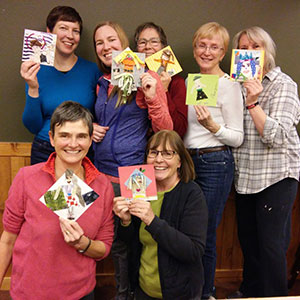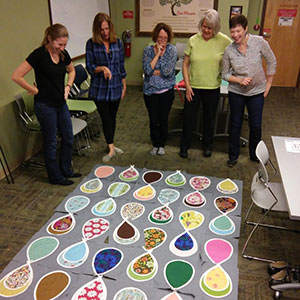 Boulder MQG meetings are the first Thursday of the month.* Social hour begins at 6 pm with the program running from 7 – 8:30 pm. Meetings are held in the community room at Alfalfa's Market at 785 E South Boulder Rd in Louisville, CO. The community room is located on the second floor. Accessible by stairs or elevator located near the restrooms.
Open Sew days are perfect for connecting with fellow guild members to work on projects, learn new tricks and get inspired. Open Sew days are also held at Alfalfa's Market and switch between Saturday and Sunday, usually the third weekend of the month. Make sure to check the schedule to see any planned challenge projects.
Guests are ALWAYS welcome! You are welcome to attend one meeting and open sew free. Your second month as a guest will be charged a nominal fee and after that you will be asked to join.
*Due to the unpredictable weather in Colorado, we might decide to cancel a meeting if conditions are unsafe. In this rare instance, we will post on the blog, Facebook, and Instagram by 3pm for evening meetings or 7am for open sew days.
If you have any questions about our meetings or other events, feel free to contact us.
February Open Sew
CHALLENGE PROJECT: Pincushions
Sunday, February 18 from 9 am – 4 pm
Show and Tell at 11:30 am
RSVP
March Evening Meeting
TOPIC: "What's All the Fuss About?" Fussy Cutting Modern Quilt Blocks
Thursday, March 1 from 6 pm – 8:30 pm
STEAMfest 2018
March 3-4, 2018
BMQG Booth: Teaching kids to sew a quilt block
Boulder County Fairgrounds in Longmont
https://makerbolder.com/steam/
Volunteer signups coming soon
March Open Sew
Sunday, March 18 from 9 am – 4 pm
Show and Tell at 11:30 am
RSVP