The Boulder MQG has a library of books and resources available to our members. To check out a book, please fill out the request form.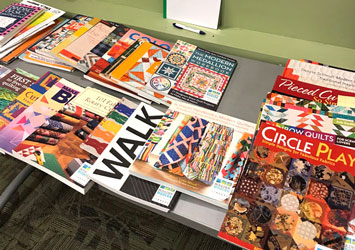 LIBRARY LIST
101 Fabulous Rotary-Cut Quilts
by Judy Hopkins and Nancy Martin
The quintessential book for rotary-cutting fans! Learn expert, timesaving techniques. Choose from 101 classic patterns brimming with lively colors, unusual sets, and exciting quilting designs. Includes step-by-step, illustrated directions and easy-to-follow stitching diagrams.
1, 2, 3 Quilt: Shape Up Your Skills with 24 Stylish Projects
by Ellen Luckett Baker 2013
Ellen Luckett Baker shares her fun building-block approach to quilting. Organized by quilting shapes— squares, triangles, hexagons, circles, owers, stars, and diamonds—this easy-to-follow guide provides a simple way to master the elements of quilt design. Twenty-four projects progress in di culty, allowing readers to develop technical skills as they work through the book.
101 Log Cabin Blocks with Full-size Patterns for Foundation Piecing
by Linda Causee 1997
This book not only includes the traditional Log Cabin block (in four sizes) it takes the Log Cabin out of the past and into a new creative realm of innovative block design. Using foundation methods for piecing, you don't have to worry about cutting any weird shapes or matching points. Pieces are added to a foundation using a stitch-and-flip open technique where all you have to do is stitch on the line.
A Modern Twist: Create Quilts with a Colorful Spin
by Natalie Barnes 2015
Twist and turn simple blocks to create impressive random looking modern designs. Learn to trust unusual color combinations and choose fabrics with confidence. 13 patterns to try and explore.
A Quilter's Ark
by Margaret Rolfe 2013
Create a menagerie of quilted creatures with 53 exciting foundation-pieced block designs. Piece dozens of animal and bird designs, including a panda, giraffe, rhinoceros, lion, flamingo, koala, and an elephant.
Accentuate the Negative
by Trisch Price 2014
An excellent source for machine quilting ideas. Trisch explores six aspects of negative space design: gradation, reversal, interruption, negative form, ghosting and piecing. Each category features three original quilt designs.
Alison Glass Appliqué: The Essential Guide to Modern Appliqué
by Alison Glass 2014
Enjoy the classic art of appliqué but with thoroughly modern projects. Features 8 essential and updated techniques, including the hottest new thing in quilt making: Large Scaleappliqué. Use the skills learned to create one of the beautifully crafted 14 projects for the home. Further embellishment tips capture the trend of taking time to add layers of handwork to compositions.
Block Party–The Modern Quilting Bee: The Journey of 12 Women, 1 Blog, & 12 Improvisational Projects
by Alissa Haight Carlton 2011
The quilting bee gets a modern makeover. Quilting mavericks Alissa and Kristen chronicle their year-long "virtual" quilting bee. Twelve chapters (one for each month) showcase the designs of today's leading modern quilters along with easy-to-follow guidelines, so you can reinvent their work in your own signature style. You'll have everything you need to start your own online quilting bee.
Circle Play: Simple Designs for Fabulous Fabrics
by Reynola Pakusich 2004
Circles are hot. Use them to design fun, easy quilts that will stretch your creativity as you learn about choosing fabric for maximum impact. Simple, fun process makes for dramatic quilts. Experiment with value to create movement. Integrate circular design elements with your background fabrics.
Color Harmony for Quilts: A Quiltmaker's Guide to Exploring Color
by Weeks Ringle and Bill Kerr 2002
The authors help you use color more creatively in your designs. Through a showcase of 35 great quilts, ranging from contemporary to traditional, they show how colors work together to support the "big idea". Learn to go beyond simple formulaic color concepts, and instead, have fun exploring color through activities that will help you see color in a completely new way.
Color Play: Easy Steps to Imaginative Color in Quilts
by Joen Wolfrom 2000
Broaden your color experience and stretch your imagination with creative color play. Features 24 colors, their characteristics, and combinations that look fabulous in quilts. Sample fabric arrangements and stunning nature photography make color play concepts easy to understand. Learn how variations of pure color, tints, shades and tones affect the mood of a quilt. Gallery of over 70 colorful quilts.
Cultural Fusion Quilts: A Melting Pot of Piecing Traditions • 15 Free-Form Block Projects
by Sujata Shah 2014
Bold, vibrant, striking, and amazingly easy to make! This collection of 15 modern quilts draws on hand- made crafts from India, the American South, and Africa to create a style that's at once traditional and con- temporary, artistic and practical. A simple stack, cut, shuffle, and stitch technique makes the sewing fun for quilters of any level, and also makes every quilt a one-of-a-kind creation. No two are ever alike! The author provides alternate settings, plus an inspiring photo gallery of the crafts that shaped her style.
Cut Loose Quilts: Stack, Slice, Switch, and Sew
by Jan Mullen, 2001
18 fun, colorful projects – with no points to match! Jan's designs are easy enough for beginners, but interesting enough for expert quilters.
Denyse Schmidt: Modern Quilts, Traditional Inspiration: 20 New Designs with Historic Roots
by Denyse Schmidt 2012
Denyse Schmidt is one of the leading quilters of the 21st century. Known as a "modern" quilter, she actually draws much of her creative vision from quilts of the past. In this book she pays homage to the quilters and quilts that came before her. Each of the 20 traditional quilt designs she has reinterpreted here (among them are Irish Chain, Mariner's Compass, and Orange Peel, to name a few) is introduced with a lively over- view of the pattern's history. Instructions are illustrated, templates are provided at full size on a pullout pattern sheet, and a complete techniques section is included at the back of the book.
First Steps to Free Motion Quilting
by Christina Cameli 2013
Ready, set, sew! Learn the basics, gather your supplies, pick a project, and start stitching. With a refreshingly new approach to free-motion stitching, First Steps to Free-Motion Quilting encourages you to make something beautiful while improving your free-motion quilting skills. You'll nd 24 projects and quilts that are light on assembly so you can spend most of your time stitching.
Fun-Size Quilts: 17 Popular Designers Play with Fat Quarters
2014
Enjoy a diverse array of quilts reflecting the design talents of 17 popular designers. Play with the possibilities: patterns include pieced as well as appliquéd designs in a diverse array of quilts that range from modern to traditional. Choose from 19 engaging projects that vary in size from 12 1/2" x 16 1/2" to 18 1/2" x 23" and are great for gifts
The Improv Handbook for Modern Quilters: A Guide to Creating, Quilting, and Living Courageously
by Sherri Lynn Wood 2015
Forget step-by-step instructions and copycat designs. In The Improv Handbook for Modern Quilters, Sherri Lynn Wood presents a flexible approach to quilting that breaks free of old paradigms. Instead of traditional instructions, she presents 10 frameworks (or scores) that create a guiding, but not limiting, structure. To help quilters gain confidence, Wood also offers detailed lessons for stitching techniques key to improvisation, design and spontaneity exercises, and lessons on color. Every quilt made from one of Wood's scores will have common threads, but each one will look different because it reflects the maker's unique interpretation. Featured throughout the book are Wood's own quilts and a gallery of contributor works chosen from among the hundreds submitted when she invited volunteers to test her scores during the making of this groundbreaking work.
Make Any Block Any Size
by Joen Wolfrom 1999
Learn easy drawing methods, how to combine and blend different blocks and how to resize.
Mod Block: The Color Issue
by Missouri Star Quilt Company
Modern Appliqué Illusions: 12 Quilts Create Perspective and Depth
by Casey York 2014
Join secrets of perspective borrowed from fine arts with easy quilting methods to create modern quilted optical illusions. Casey teaches you to create landscapes that recede into the distance, objects that look three-dimensional, even fish that seem to swim underwater, all with easy raw-edge appliqué and straight- line machine quilting! Hand stitching finishes the appliqué with a clean look that still has a handmade feeling.
Modern Blocks: 99 Quilt Blocks from Your Favorite Designers
compiled by Susanne Woods 2011
Today's most talented modern quilters put a fresh and fun spin on 99 traditional block designs. Chock full of step-by-step instructions, how-to photographs and helpful hints, this collection of inspiring projects makes it easy for any sewer to quilt in a modern style with impressive results.
The Modern Medallion Workbook
by Janice Zeller Ryan and Beth Vassalo 2015
Medallion quilts, known for detailed borders built around a central focal point, have seen a resurgence in the modern quilting movement. Savor the intricate piecing and sophisticated appliqué behind 11 all-new modern medallion quilts, designed by popular quilting bloggers. Projects range from basic to complex, with each quilt as unique as its maker. Learn how to resize borders and master useful techniques, such as sewing inset curves and paper piecing. Mix and match borders, using the provided line drawings as coloring pages, to plan your design and create your own unique modern masterpiece!
Modern Minimal: 20 Bold & Graphic Quilts
by Alissa Haight Carlton 2012
Quilts get super sleek and ultra modern with these gorgeously graphic designs by Alissa Haight Carlton, co-founder of The Modern Quilt Guild. Each of the 20 beginner-friendly projects uses lots of open space to show o the simplicity of the quilting. Designs are perfect for all your solid fabrics—accent with your favorite prints! Try straight, strip, or improvisational piecing using strips, squares, and rectangles.
Optical Illusions: Innovative Designs for the Modern Quilter
by Nine Top Designers 2014
Nine modern quilters each designed a quilt with a strong optical illusion that is distinctively modern. Many are surprisingly simple to make, but a few present challenges for seasoned quilters. Most are simple pieced designs, while some add a little variety, such as raw-edge appliqué. Quilting expert Angela Walters contributes advice for quilting optical illusion designs. Her tips, illustrated by quilting throughout the book, will help as you consider how to quilt your next modern quilt.
Patchwork City: 75 Innovative Blocks for the Modern Quilter 6 Sampler Quilts
by Elizabeth Hartman 2014
5 modern blocks. 25 each in three sizes; 5" x 8", 8" x 8", 5" x 14"
Easy to follow cutting charts and instructions for every block. Some blocks have full size patterns. Mix and match; 6 sampler quilt projects show you just some of the endless possibilities. Includes information on supplies, cutting and sewing basics, and using freezer paper templates.
Pieced Curves So Simple: No Appliqué, Pinless Piecing
by Dale Fleming 2005
*This book includes the inset circle method Latifah taught in her workshop.
Learn fast easy techniques for machine piecing circles and curves. Dale covers color, balance, unity and more. Design-as-you-go techniques will bring out your own creativity as you learn a variety of ways to make your own patterns.
Quilting for Peace: Make the World a Better Place One Stitch at a Time
by Katherine Bell 2009
Many quilters make quilts in order to distribute hope and warmth to those in need. They believe they can make the world a better place. Quilting for Peace profiles these quilters in more than 25 essays about individuals and organizations devoted to making quilts and other necessities for the needy. The efforts range from Newborns in Need, to Quilts of Valor, to the Sleeping Bag Project. This book includes 15 projects and guidelines for quilters who want to contribute to an existing effort or establish a new one.
Quilting with a Modern Slant: People, Patterns, and Techniques Inspiring the Modern Quilt Community
by Rachel May 2014
Modern quilting allows artists the freedom to expand on traditions and use fabrics, patterns, colors, and stitching innovatively to create exciting fresh designs. Rachel introduces you to more than 70 modern quilters who have developed their own styles, methods, and aesthetics. Their ideas, quilts, tips, tutorials, and techniques will inspire you to try something new and follow your own creativity — wherever it leads.
Quilting Wide Open Spaces
by Judy Madsen 2013
Practical advice about enhancing large, open areas with modern machine quilting. Includes 6 original designs for striking and colorful projects to piece and quilt.
Quilts For Scrap Lovers
by Judy Gauthier 2016
Give new life to the fabric you never thought you'd be able to use! Make 16 gorgeous scrap quilts from "real scraps"―not just strips or precuts. Piece traditional blocks with ease when you start with 3 1/2″, 4 1/2″, and 5 1/2" squares. A unique cutting system helps beginning and seasoned quilters achieve beautiful results. Imagine the feeling of accomplishment when you transform novelty, holiday, and even mismatched fabrics into striking quilts! Give new life to fabric you never thought you'd use! Use with simple square templates.
Rainbow Quilts for Scrap Lovers: 12 Projects from Simple Squares – Choosing Fabrics & Organizing Your Stash
by Judy Gauthier 2017
Learn to rescue fabric leftovers with 12 colorful quilt patterns for scrap lovers. Judy Gauthier teaches you her indispensable system for cutting from "real," oddly shaped scraps, not just strips or precuts! Cut scraps into 3 1/2″ 4 1/2″, and 5 1/2″ squares – a magical combination for all skill levels – using traditional rotary cutting or Judy's fast2cut Simple Square Templates. Clever organizing and quilt-assembly tips will help you uncover hidden treasures from your stash.
Scraps, Inc. Vol.1: 15 Block-Based designs for the Modern Quilter
by Lucky Spool compilation 2014
Recycle your scraps. Now's your chance to make edgy quilt designs from your beloved fabric remnants of past projects. This project-based book features 15 unique quilt designs by well-known designers and it is aimed at the experienced modern quilter. Save money as you sew by piecing together stunning new quilts from your stash of fabric scraps. Tackle tricky color combinations. Scrap quilts are hard to design due to the variety of color challenges introduced by random scraps. The modern patterns in this book help solve those issues with clearly illustrated color schematics and tips on color harmony.
Thinking Outside the Block: Step by Step to Dynamic Quilts
by Sandi Cummins 2004
Contemporary quilts the easy way. No rules. Start with traditional blocks as Sandi shares easy steps to designing and creating your own artistic quilts. Easy processes include inserting strips into blocks, constructing free-form units. Learn to experiment with design and develop one-of-a-kind quilts.
Walk: Master Machine Quilting With Your Walking Foot
by Jacquie Gering 2016
In WALK, Jacquie shares a comprehensive set of walking foot quilting basics that provide a solid foundation for quilting with ease, quality and creativity. She guides you through a series of test drives with your walking foot, allowing you to get acquainted with its features and set yourself up for success with your foot and your machine. Then you'll learn how to prepare and mark the quilt, prevent puckers while quilting, and manage large projects.
Other Resources
Kona Cotton Color Card
Aurifil Thread Card
Nature Elements by Art Gallery Fabrics