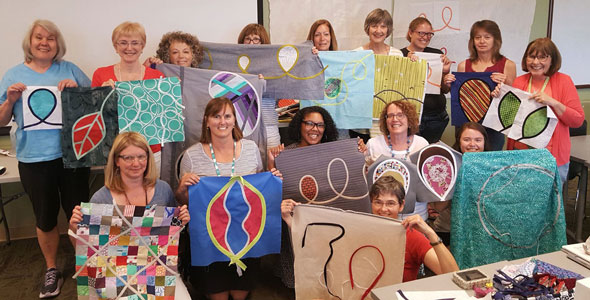 The purpose of the Boulder MQG is to provide an atmosphere of fellowship and learning for people interested in modern quilt making and related arts by sharing of skills, knowledge and inspiration in the field of quilt making.
The Boulder MQG was founded in 2013 and became a local guild member of the Modern Quilt Guild in 2014. All our members receive the membership benefits of the Modern Quilt Guild.
We usually meet the first Thursday of the month for an evening business meeting and educational program and one weekend a month for an open sew at Alfalfa's Market at 785 E South Boulder Rd in Louisville, CO. Click here for full event information.
You can find us on Facebook and Instagram.
We would love to have you come to a meeting or open sew and see what we're about.
2018 Boulder MQG Board Members
President – Claudia Sheehan
Vice President – Laura Loewen
Treasurer – Cynthia Morgan
Secretary – Barbara Gippe and Wendy Steensland
Social Media Director – Rebecca Greco